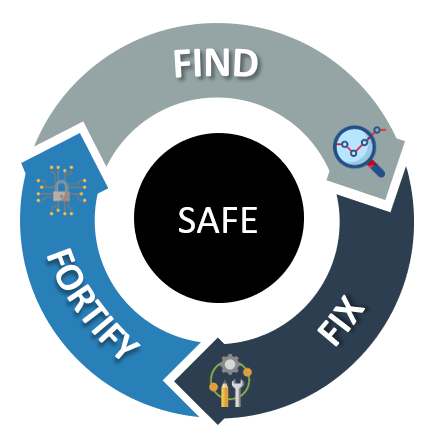 Enhance Your Business Security with Security Awareness for Enterprise (SAFE)
When running a company, one of the primary consequential things is security. There can be a lot of problems within the company if there is not proper security. For example, someone can easily steal information, money, and even products from the company. Therefore, every company must have top-notch protection for the betterment.
However, having proper security is not easy. There can be different mishaps that can occur and comprise the company's safety. In addition, there are thousands of hackers and thieves that can breach your system and get access to the computers and other important information. Therefore, you must have proper security.
You can use passwords, anti-virus programs, and so many other things that can contribute to the factor of getting unauthorized access. Therefore, if you are looking for a robust security system that can keep all of the information about your company secured, then Security Awareness For Enterprise is the best option.
What is Security Awareness For Enterprise?
Previously, most of the systems were handled by the IT people. They used programs, passwords, and other methods through which people could protect their essential information. But due to the advancement in technology, hackers were able to steal this info. This made companies realize that they need more secure strategies to keep the data safe.
Now, there are different security services. These new systems work on the latest technology and use unique strategies to keep the information safe. It is now impossible for thieves to retrieve data and break the passwords. One of the most effective security programs among these services is the Security Awareness For Enterprise (SAFE).
Security Awareness For Enterprise (SAFE) is a program that allows you to keep all of your information safe from thieves and hackers. This program ensures that no one can surpass the security system and that all the data is protected. SAFE works on the latest technology and provides the ultimate security for your business. In addition, you will get all the critical knowledge about how you can protect your business from unauthorized people that get into the system.
Features of Security Awareness For Enterprise
Gain Awareness
In this program, you will learn everything about security. You will get information about the documented policies and procedures. Everything about the governance and user security training. There are some essential things that you will need to know about the security process.
Cloud
Here you will also learn about the Azure services and server. Also, receive information regarding the virtual desktops of Windows and how people can get into the Cloud.
Perimeter
Many hackers use the Dark web and remote websites to hack the systems. So people must know how to tackle this problem. Therefore, you will also have information about the VPN, MFA, dark webs, and remote access.
Properly Managed System
The program is appropriately managed. This means you will get everything in order. This will be a flat-rate program which means the 24/7 security operation centers will back it up.
Network Security
Learn about the protection management for the desktops and servers. A company does not only have a laptop or a mobile device. Different devices need a proper security system. Therefore, in this program, you will learn how to protect the systems like firewalls, switches, other applications, etc. Lastly, you will also know how to protect the infrastructure of the devices and the Active Directory.
Application
There are different software and systems on laptops, mobiles, and servers that can also be used as a hacking source. Sometimes people download stuff that allows the hackers to get into your system and steal critical information. Therefore, in this program, you will learn how you can resolve this issue and what software is that is not protected.
Data Security
Lastly, you will learn to protect everything that is on the Cloud. One of the weak points that people forget to secure is the Cloud. Therefore, you will get to know how to keep your Cloud safe through this program.
The priority of a business is to keep all of its information secure. Therefore, one of the best programs you can use to keep everything safe for your company is Security Awareness For Enterprise.