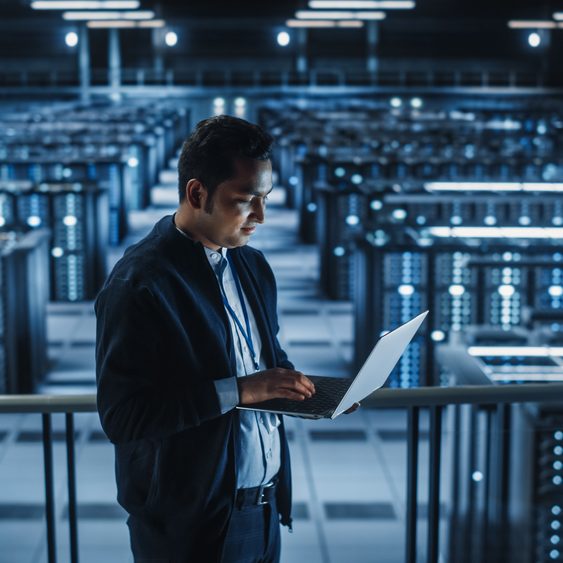 Celebrating the Unsung Heroes of Our Technology World – Honoring National I.T. Professionals Day 
Technology professionals are the digital avengers who constantly save our tech-infested lives, over and over again.
They fix your issues with Microsoft Outlook, protect your network(s), and were even deemed "necessary workers" during the pandemic.
They are the unsung and under-celebrated heroes of the working world, diligently engaged behind the scenes to keep our world running smoothly.
These Information Technology juggernauts, along with their dedication, deserve to be celebrated. They're always "on" and connected, pushing to solve problems that most of us have no clue where to start.
That's why every September, we come together to observe National IT Professionals Day to recognize and appreciate the invaluable contributions of these individuals. 
Think Captain America to Tony Stark. Samwise Gamgee to Frodo Baggins. Weasel to Deadpool
In a world increasingly dependent on technology, they're the backbone of our IT existence.
They work tirelessly so that your devices function seamlessly, your data remains secure, and that your business has access to the tools and systems that power your work, education, and entertainment.
Without them, our modern way of life would come to a grinding halt.
Like Captain America to Tony Stark, your IT person is a guide.
Think about it, without Captain America, Black Widow, and Bruce Banner, Tony would have never been (SPOILER ALERT) a part of saving the universe in the last Avengers movie. They are guides who solve problems, gameplan, and "do the work" that no one else is willing to do.
Even Frodo Baggins needed a guide to make sure he threw the ring into the Lake of Modor.
And like our favorite, Deadpool, IT techs find humor where situations demand a bit of lightheartedness, along with "regenerating" your network like his superhero healing abilities.
Plus, they possess one of the most remarkable qualities: Problem solving.
They are skilled at finding a solution to every technological tantrum. They are constantly learning, and they stay current with the latest software developments that impact your business.
They acquire new skills to meet the demands of an industry that never stands still and remain dedicated to lifelong learning so that your end-users have access to the best technology has to offer.
IT technicians, IT managers, and IT Directors work tirelessly behind the scenes to guarantee that your experiences with your cloud solution, your software, and your hardware are seamless. They troubleshoot issues, fix bugs, and maintain the infrastructure that allows you to communicate, collaborate, and innovate.
Working in IT is a thankless job that demands not only technical proficiency but also the patience of 1,000 Koala bears.  
Empathy is SO Important
The MOST important quality an IT pro needs to have is empathy.
It's a quality that is overlooked, especially when it comes to IT professionals. Let's be honest, most people think that an IT person is someone that's going to shame them when their Outlook goes down, while struggling with less-than-ideal hygiene habits.
This couldn't be more wrong.
Empathy and compassion is essential for technology workers because having understanding that technology can be frustrating helps them patiently guide you through the maze of technical difficulties. Remember, IT techs are guides for you and your business.
Empathy results in your tech person listening to your concerns, answering questions, and finding solutions that cater to your customized needs.
Is your IT resource patient and empathetic?
As we celebrate National IT Professionals Day (and month for us!), let's remember to express our gratitude and appreciation for these dedicated heroes.
They are the ones who make our technological lives a bit easier while doing it with a level of empathy and commitment that goes unnoticed. Whether they are helping us set up a new device, recovering lost data by implementing a BDR process, or protecting our online privacy, IT workers are ensuring that our digital experiences are as smooth and secure as possible.
So, next time you encounter a technical issue or receive assistance from your IT firm, take a minute to thank them for their hard work and dedication.
And don't forget that we care about you and your business, too. We care about doing things the right way. We want you to walk this technology-journey with you for a better way to build your business with tech. [Said in Ryan Reynolds best Deadpool voice]
Contact Decision Digital today to learn more about how we can help you implement your security and backup needs.